About Us
Joseph Lombardi – President of Lomco Limited
Lomco's Commitment of Excellence dates back to the founding of the company in 1989.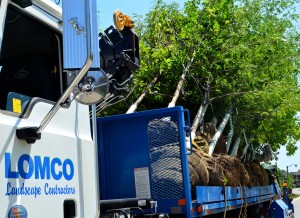 Lomco has an extensive and skilled labour force and a large fleet of equipment and trucks. This allows us to complete both small and large scale projects.
Lomco owns and operates a number of Nurseries offering a variety of specimen trees and continuously participates in Toronto's Tree Advocacy Program.
Lomco is fully bondable.
Associations:
• Member of Landscape Ontario since 2001
• Member of OFA – Ontario Federation of Agriculture
• Member of ISA – International Society of Arboriculture
• Lomco has been presented with the Excavator of the Year, awarded by ORCGA in 2004 – 2013
• Active supporter of the Toronto Tree Advocacy Planting Program, awarded appreciation in the years 2004 – 2014 for supporting forestry
• ICPI – Certified Concrete Paver Installer Certification
• The Composting Council of Canada